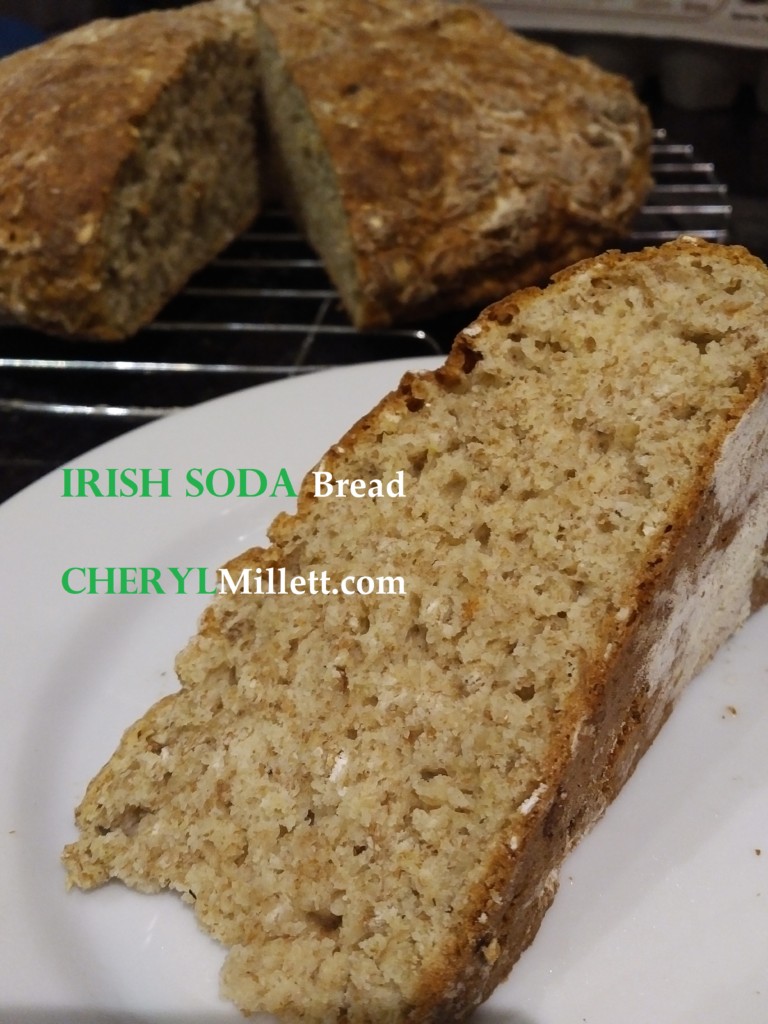 This Irish soda bread recipe can be described with these three words: easy, tasty and healthier. Let's play with healthier. I would recommend you don't eat a whole loaf yourself at one sitting, but if you are looking to bake something fresh because you have some Irish stew or soup in the crock pot, well you are in for some Irish luck as would be your guests.
The Irish soda bread recipe is easy because it only takes 15 minutes to prepare and approximately 30 minutes to bake.
The Irish soda bread recipe is tasty because it contains the simplest and wholesome ingredients.
The Irish soda bread recipe is healthier because there is no yeast, no refined vegetable oils, no processed sugar, no eggs, and the flour can be substituted for a variety of gluten free grains and you can leave out the oats if you have to. You will have to play with the variety of flours because I have only tried freshly ground millet and organic wheat flours.
The only way you are going to agree with me is if you try baking one. Let me take you through my experience and why I started making Irish soda bread in the first place as I have been staying away from the supermarket breads for a long time. There was even a spell where I didn't have any grains.
Why Did I Start Making Irish Soda Bread
It all started three to four years ago when I was contacted by the one and only Eimear Flanagan of 'Away A Wee Walk' in Belfast, Ireland. She does wonderful guided hikes and was inquiring if my Toronto walk club (Forest Hill Walk Club) was interested in travelling abroad for some scenic walking and hiking.  Just under two years ago, I polled the walk club members and more than a dozen hands went up. With the 10th anniversary coming up June 1 2018, why not coordinate the timing with the walk club's celebration. The Magical Ireland Hiking Holiday was birthed…a night in an ancient castle (Ashford circa 1228), hiking the Cliffs of Moher and the Giant Causeway, ancient mounds older than the pyramids, ring forts and towers, dolmens and sheela-na-gigs, small village walks, history, druids, and more.
As this trip was coming together, I decided to hold presentations so people could learn about the trip (and a half.) The presentations turned into gatherings of the people going on the trip. Coming together meant not only learning about the holiday doings but learning about the Irish and Ireland. What better way to introduce some of the Irish fare and sample some Guinness! From here the Irish Soda Bread danced its way into the hearts and bellies of the hikers.
Irish Soda Bread History
According to the The Society for the Preservation of Irish Soda Bread, the oldest reference for the making of Irish Soda Bread took place Nov of 1836 in a Farmer's Magazine (London) on an Irish newspaper from County Down Ireland.
Gotta love and appreciate the society created for preserving Irish Soda Bread. – Cheryl
Traditional Irish Soda Bread recipes online only contain four ingredients: flour, baking soda, salt and buttermilk/sour milk. When exploring a dozen recipes, a variety of the following ingredients were used in the recipes: sugar, oats, raisins/currants, eggs, baking powder, sour cream, orange zest, and caraway seeds. The soft wheat in Ireland works well with the action of buttermilk and baking soda to make bread.
The Idea of using soda to leaven bread was done by the American Indians centuries ago, where they used Potash  in their breads to make them rise. Kitchen Project
Although baking soda wasn't introduced to Ireland until in the 1840's, that's almost 200 years of making this bread in Ireland as a staple for the table. Back in the day, there were no ovens so the bread was baked on a griddle or in a cast iron Dutch Oven (called a Bastible) or over hot coals in a covered skillet.
Travelling even further back in history, it seems that the Native Americans used potash/soda ash (a natural soda in wood ashes), and at one time the Irish used potatoes in the recipe. Some wheat flour and potatoes. When one of the potato famines struck (1845), this would have made logical sense to only be using flour and perhaps increasing the use of soda bread. In some ways, people have referred to soda bread as a poor food similar to the meaning of cornbread to the Italians.
My friend Sharon Elston, a chef and a.k.a The Spice Lady, sent me her Irish Soda Bread recipe of which contains oats, a grain known to grow in Ireland (with a couple of my twicks).
Irish Soda Bread
(Click here for printable version and pdf.)
2 cups all purpose flour + 2 cups whole grain flour
1 cup or 250 ml whole oats
1 rounded teaspoon or 5 ml baking soda + 1/8 teaspoon/.5 ml
1 teaspoon or 5 ml salt (use Himalayan if you have some)
2 tablespoons or 30 ml butter, cut into small pieces
2 1/4 cup sour milk/buttermilk (milk + lemon juice, for every 1 cup add 1 tablespoon/15 ml)
Before laying out the directions, I want to share these tips. I often substituted buttermilk with plain homemade yogurt plus milk (50/50). Some recipes didn't have butter in them so it is up to you. Use organic ingredients with grass fed butter. I used a pizza stone pan to bake the bread on but a covered Dutch Oven would also be good to use adding some parchment paper to line it before putting in the dough. One recipe had added rosemary herb.
Directions
Preheat oven to 400-425 degrees F.
Dust a baking sheet with flour (and keep some handy for taking the dough ball out of the bowl).
Mix the dry ingredients in a large bowl, then rub in the butter pieces. I rubbed them in with my fingers and this part reminded me of making my famous holiday shortbreads.
Pour in the buttermilk, and mix it in quickly with a table knife/wooden spoon, then bring the dough together very lightly with your fingertips. Handle it very very gently.
Shape it into a flat, round loaf measuring about 8 inches in diameter. (Biscuits perhaps!)
Transfer to baking pan or pizza stone. This is where I dusted me (my) fingers with flour.
Score a deep cross in the top. Traditionally, this lets the fairies out, but it also helps the heat reach the core of the bread.
Bake for 30-35 minutes until the bottom of the loaf sounds hollow when tapped. Tricky, I usually tapped the top and if it sounded hollow then good and I shall learn my lesson if this doesn't work. Do as you wish. So, if it isn't ready after this time, turn it upside down on the baking sheet and bake for a few minutes more.
Transfer to a wire rack, cover with a clean tea towel (this keeps the crust nice and soft) and leave to cool for 10 minutes or so.
To serve, break into quarters, then break or cut each quarter in half to make 8 wedges or slices – or simply slice across. Eat very fresh.
Traditional Irish Soda Bread Recipe (*Society)
Brown Bread  (reminder: 4 oz by weight is a dry "cup")
3 cups (12 oz) of wheat flour
1 cup (4 oz) of white flour (do not use self-rising as it already contains baking powder and salt)
14 ounces of buttermilk (pour in a bit at a time until the dough is moist)
1 teaspoon of salt
1 1/2 teaspoon of bicarbonate of soda.
2 ounces of butter if you want to deviate a bit.
Method:
Preheat the oven to 425 F. degrees.  Lightly grease and flour a cake pan.  In a large bowl sieve and combine all the dry ingredients. Rub in the butter until the flour is crumbly.
Add the buttermilk to form a sticky dough.  Place on floured surface and lightly knead (too much allows the gas to escape)
Shape into a round flat shape in a round cake pan and cut a cross in the top of the dough.
Cover the pan with another pan and bake for 30 minutes (this simulates the bastible pot).  Remove cover and bake for an additional 15 minutes.
The bottom of the bread will have a hollow sound when tapped to show it is done.
Cover the bread in a tea towel and lightly sprinkle water on the cloth to keep the bread moist.
Ah, the smell of freshly baked bread delights more than one sense!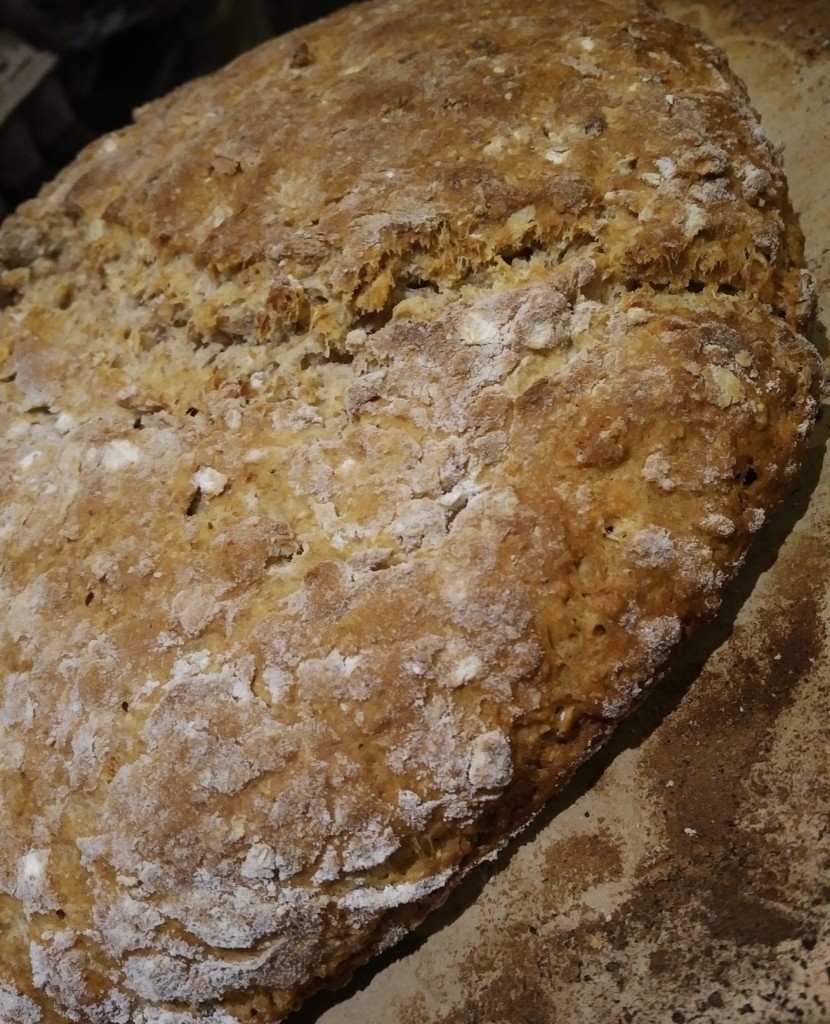 Because it is a good size loaf, I was able to cut 12 or more slices (wedges). Thinner slices means more butter and toppings. First try a bite on its own. Delicious!
Toppings for the Soda Bread
Butter would be the most logical. I made some blueberry jam (wild blueberries + lemon juice simmer until thick) to use on butter or cream cheese. If sliced thinly then slices of cheese and meat works. Butter and honey. Butter and cinnamon. Nut butters. Whatever your favourite toppings, try those.
Worth noting, I hear that Ireland has some of the best dairy in the world. Cadbury chocolate was known to taste better if made in Ireland because of the dairy. Good grasses on the Eire land! I will find out soon enough.
Irish Soda Bread Shapes
The round shape is most common for Irish Soda Bread. It was written that Northern Ireland would flattened their bread (called FARL – pronounced farel meaning four pieces) into a round disc and partition the dough into 4 triangle pieces and cook one quarter in a skillet. Make into biscuits as well.
Try your hand at baking your own Irish Soda Bread…what are you waiting for, skip to it!
Any tips and ideas you have for this Irish Soda Bread Recipe, feel free to share below or share your experiences.
References
http://www.abigailsbakery.com/bread-recipes/history-of-irish-soda-bread.htm
*The Society for the Preservation of Irish Soda Bread http://www.sodabread.info/
---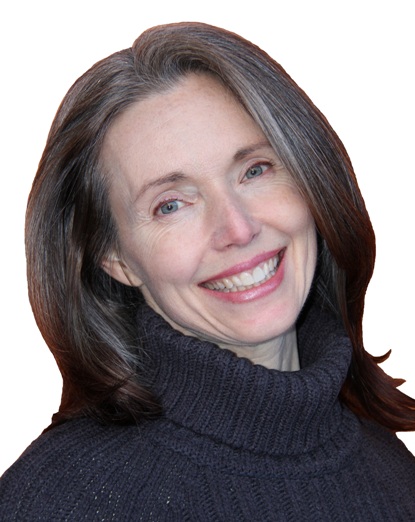 Cheryl Millett
Champion for your better health…
Before the age of 20, it never dawned on me that what I chose to put in my mouth would have such a dramatic effect on my wellbeing.
On my path of discovery, I learned that our eating choices directly affected how much energy we have first thing in the morning or that it would build our immune system strength during flu season. Part of it was coming to understand how gentle nutritional cleansing directly helped overcome my health challenges. People keep telling me how beautiful my skin is or how I look younger.
As my studies continued, it became obvious that there is an intrinsic connection between the mind, body and spirit which directly affects our health and happiness. Also learned that Omegas are another critical piece of the wellness puzzle. I became convinced when the Auum omegas alone turned on some switches in my brain in just one day.
I have developed a deep appreciation for the wonderful miracle workers our bodies are in the recovery process.  Our bodies have a natural intelligence.  I am passionate to share the connection between nutrition and wellness in my practice and my presentations.